Case study: management of water usage in LEDCs
The Marunda project
Jakarta in Indonesia has a rapidly growing population and water companies do not have the resources to supply reliable and safe water to everyone. This means that a large proportion of the population are drinking contaminated water and are vulnerable to disease. In addition, salt water is also contaminating groundwater, which is making the problem worse. This is a particular problem in shanty towns such as Marunda.
Like most shanty towns, Marunda lacks basic services such as water supply, sanitation and electricity. People there have a poor standard of living and a low quality of life. Conditions are crowded and disease spreads easily, contributing to low life expectancy and high infant mortality rates.
In the past, people have relied on water from tankers or street sellers who charged high prices.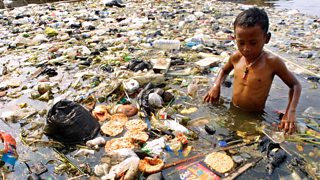 The solutions
The Jakarta city authorities tried to invest in basic services but there was a lack of funding. They then sought investment from abroad. In 1999, Thames Water began a £60,000 project to bring piped water to Marunda. The project involved local people from the early stages to ensure that their needs would be met appropriately and that the project was sustainable.
How successful was it?
By the year 2000, over 1,600 homes in Marunda had piped water. Water can now be obtained more cheaply, allowing money to be spent on food, clothes and education which is vital for the country's long-term prospects. There have also been health benefits because the risk of disease from contaminated water has been reduced.
This scheme was a success as it was sustainable and worked with the people to meet their needs. Not all schemes have been as successful as this one. The Pergau Dam in Malaysia, for example, was constructed in partnership with the British government with the aim of providing safe and reliable water and electricity. But it did not meet the needs of the poorest people and the scheme was an example of tied aid (this means that conditions were attached which did not benefit Malaysia's population).