Water used per person
The amount of water used per person in each country changes dramatically. The bar chart shows the total amount of water used per person in selected countries.
What is water used for in LEDCs and MEDCs?
Agriculture
In MEDCs

irrigation

is mechanised. Sprinklers or timed irrigation feeds are used. Where agriculture is common, vast amounts of water can be released at the touch of a button.

In LEDCs irrigation channels are prone to losing water through

evaporation

.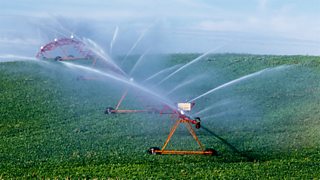 Industrial use
Industries in MEDCs can be on a large scale, and so demand a lot of water. The steel industry is an example of an industry which needs a large water supply for manufacturing purposes.

LEDCs have smaller scale cottage industries. They demand less water in the production of items. However as more multinational companies locate in LEDCs there will be more demand on water. For example, in India, drinks manufacturers use over a million litres of water a day to produce drinks.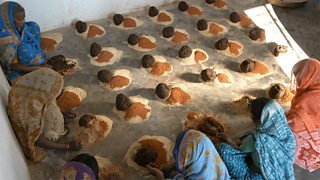 Domestic water use
In MEDCs there are a lot of facilities which demand water use. For example, showers, baths, washing machines and swimming pools.

In LEDCs many people do not have access to piped water and so use it more sparingly. Water may be brought to the home from a well or stream.
As a country becomes more wealthy, there will be an increase in its demand for water. Higher levels of industrialisation and more domestic goods such as washing machines all lead to an increase in demand for water. With greater wealth there is also more demand for spas, golf courses and even baths and showers.