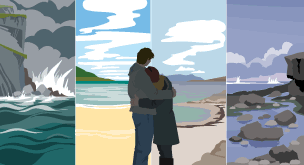 Shores is a love poem of only three stanzas.
The poem first appeared in a collection Dain Do Eimhir agus Dain Eile / Poems to Eimhir and Other Poems (1943). The collection, which also includes I Gave You Immortality are dedicated to a woman, 'Eimhir ', who may represent a lost love from MacLean's youth.
In expressing his love MacLean ranges over time and nature. As in other poems, including I Gave You Immortality and Hallaig, MacLean presents emotions, thoughts, memories and his verse as things that can transcend the passing of time.
This is a wishful expression of love, he is longing for his beloved and promises his love; measuring that love in time and place. It is a heartfelt plea to the girl to understand the strength and depth of his emotion. The grammar is conditional, If we were, I would but his love is not; he is wholehearted in his intentions.
The persona is MacLean himself. He addresses 'Eimhir' as if in person. This is a very personal poem, both in its reference to place and person.