The diagram shows a model used to generate electricity from water waves in a tank. A ball floats on the surface of the water in the tank. A coil of wire is fixed to the floor of the tank. A magnet is suspended from the ball inside the coil.
When a wave is sent along the surface of the water the ball moves up and down.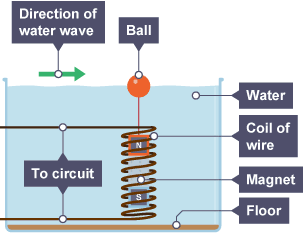 The graph shows the current induced in the coil:
Explain how this current is induced in the coil in the model.
You should refer to the model and to the labelled points on the graph in your answer. [6 marks]
The magnet moving in the coil induces a current. When the magnet changes direction, the current changes direction. At P and R the magnet is moving in opposite directions.
Answering tip: Briefly plan the key points you want to include in your answer. For example:
consider the relative motion that induces the current

why does the current in the graph change direction?

link this to points P and R from the graph