George Milton
George is a protective man, who has been caring for his friend Lennie for a long time. The two men are not related but have been friends since they were children, so as well as enjoying his company, George also feels responsible for his welfare. George often talks to Lennie about their dream.
Due to Lennie's mental disability, George has to take responsibility for him and finds this stressful and frustrating at times, due to Lennie getting into trouble. This results in outbursts of anger towards Lennie at certain points in the novel, although George regrets these quickly.
George recognises that his friendship with Lennie is special because men like George would not have had friendships due to moving around so much for work; it would have been very unusual for two men to travel around together due to work being scarce.
George is a small, quick-witted man; his intelligence contrasts with Lennie's throughout the book; as does his size. George often has to think quickly in order to cover up for Lennie's mistakes. Finally, he feels forced to shoot his best friend in order to protect him from Curley and the other men, who George believes would have tortured Lennie if they found him first.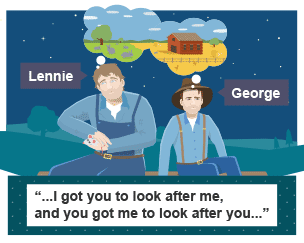 Lennie's opposite
How is George like this?
George is described as a small, quick, intelligent man.
Evidence
The first man was small and quick, dark of face, with restless eyes and sharp, strong features.
Analysis
The language used here such as quick, restless and sharp are a physical reflection of George's intelligence and quick thinking. This provides a strong contrast with Lennie, who is large and slow.
Frustrated with Lennie
How is George like this?
George's reactions to Lennie when he makes mistakes can be short-tempered and angry.
Evidence
So you forgot that awready, did you? I gotta tell you again, do I?
Analysis
George's rhetorical questions (which he knows that Lennie cannot really answer) shows his frustration with his companion.
Grateful for his friendship with Lennie
How is George like this?
George recognises that he and Lennie are different to other men because they have each other, which means they are not lonely.
Evidence
With us it ain't like that. We got a future. We got somebody to talk to that gives a damn about us.
Analysis
Plural pronouns we and us are repeated to show that George and Lennie are a unit and stay together, unlike many men like them. He builds up the impression of their closeness through giving three short, definite statements about their relationship.
Caring
How is George like this?
George is protective of Lennie and tries to look after him. When he kills Lennie, he is trying to protect him from Curley and the other men.
Evidence
Lennie said,I thought you was mad at me, George.
No,said George.No, Lennie, I ain't mad. I never been mad, an' I ain't now. That's a thing I want ya to know.
Analysis
George is reassuring to Lennie, even after he has done a terrible thing, by killing Curley's wife. George is just about to kill Lennie here and he is kind to him first, making sure that he knows that George cares about him and forgives him, so that Lennie can die in peace, knowing that George isn't angry with him.