There has been concern that interest and participation in politics has been in decline. For UK-wide general elections, voter turnout has been falling during the last 50 years from 78% in 1958 to down to 59% in 2001. The last general election in 2017 did do better, however, with 68% of the electorate turning out to vote.
The percentage of people voting in the Scottish Parliamentary election follows a similar pattern.
| Election year | Voter turnout |
| --- | --- |
| 1999 | 59.1% |
| 2003 | 49.4% |
| 2007 | 52.4% |
| 2011 | 50.4% |
| 2016 | 55.6% |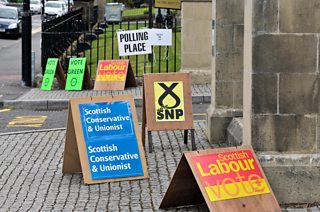 The two recent referenda – on Scottish Independence and then on BREXIT – have seen higher voting turnouts and have been credited with re-igniting an interest in and an engagement with politics.
The 2014 Independence Referendum saw a voter turnout rate of 84.6% – the highest ever recorded in the UK. This could be because in referendums there is one clear issue to vote on with the promise of a clear, defined outcome and every vote counts.
Like voter turnouts, membership of political parties has generally declined since the 1950s. In 1983 figures show that around 3.8% of the electorate were members of one of the major political parties. By 2013 that figure had dropped to 0.8%. The latest figures for 2017 show an increase of up to 1.7%.
In Scotland, the Independence Referendum bucked this general trend – with the SNP being the biggest winners. Before the referendum, at the end of 2013 the SNP had around 25,000 members. This shot up after the referendum and now currently stands at around 118,000.