in 2020, there were an estimated 241 million cases of

malaria

worldwide

the estimated number of malaria deaths stood at 627,000 in 2020

the WHO African Region carries a disproportionately high share of the global malaria burden

in 2020, the region was home to 95% of malaria cases and 96% of malaria deaths

children under 5 accounted for an estimated 80% of all malaria deaths in the region

in 2020, 26 countries reported fewer than 100 indigenous cases of the disease, up from 6 countries in 2000
Source: WHO, 2022
direct costs of malaria (for example, illness, treatment, premature death) have been estimated to be at least US $12 billion per year. The cost in lost economic growth is many times more than that.
Source: Centre for Global Health, 2022
Malaria is found within the tropics, reflecting the presence of a parasite-carrying mosquito.
This tends to be at altitudes of up to 3000 metres, with high humidity, where temperatures are above 15°C and below 40°C. The map below shows affected countries.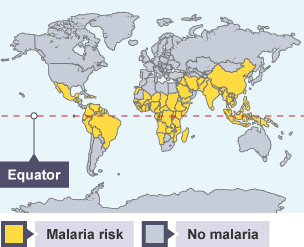 Stagnant pools of water allow the mosquito to live. It uses areas like marshes, lakes and river pools to breed.
While marshlands have been drained, development has meant the construction of new dams, reservoirs and irrigation ditches, creating stagnant water pools.
In Vietnam old bomb craters provided rich breeding grounds for the mosquito. With greater mobility people on the move can transmit the disease to a new area or even reintroduce it into a previously cleared area.
Increasing population growth can encourage people to live closer to affected areas that were previously avoided, such as close to river pools. Normally the mosquito cannot travel move than 2km from a water source.
Poverty is a crucial factor as avoiding malaria costs money.