Place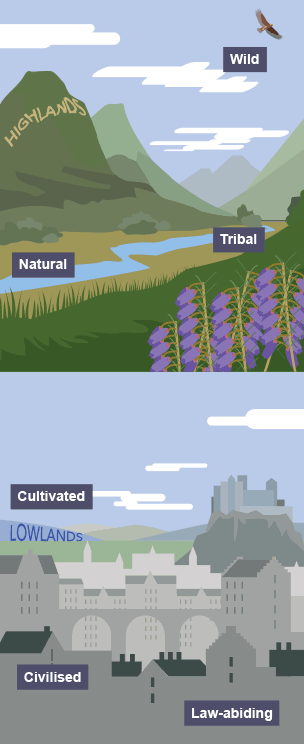 Setting is a key aspect of Kidnapped. The locations where the action takes place are an integral part of the book.
The events occur in both the Highlands and the Lowlands of Scotland. The book generally shows the Highlands as being a natural, wild and tribal place. In contrast the Lowlands are civilised, cultivated and law-abiding.
As with the characters, this view of Scotland is dualistic one - there are two types of Scotland presented in the novel.
Landscape
Landscape has a conspicuous role in the development of the narrative of Kidnapped. The use of actual places gives an authenticity and credibility to the story, and the landscape helps and hinders the characters throughout, for example:
The ship is wrecked on the Torran rocks.

The fugitives use landscape as a hiding place, eg in the Cleugh.

Sometimes they are at its mercy, as on Rannoch Moor.

At other times they are secure, as in Cluny's cave.
The natural setting is a force within the novel, providing challenges for the two main characters to confront, which brings out their qualities in the struggle to escape and survive.
There are many examples in the novel of how the landscape challenges the characters in their quest.
The flight in the heather across Rannoch Moor is the most memorable one as the setting is so bleak, the chase is so intense and the two characters are under a strain that almost breaks their friendship.
The plight of David on the islet of Earraid is striking in a different way. He experiences hunger and frustration. It is as if he is imprisoned on this odd wet desert island. He realises as a result of this, he should be more inquisitive and inventive. He also finds it a disadvantage that he is unable to speak some Gaelic.
The final landscape challenge is to cross the River Forth to get to Edinburgh and the House of Shaws. This does not seem obviously challenging to a modern audience - there are numerous river crossings now. In this period of history, however, the nearest bridge was at Stirling.
As the bridge is guarded, they have to go into Fife and find a boat, increasing the risk of the situation. This again sets them a puzzle in which David shows he is more mature, Alan shows he is as charming as ever and they both have to be determined.