The novel is framed by a prologue and epilogue written by a book publisher, Patrick Walker.
Prologue
Walker receives a mysterious manuscript that appears to have been written by Gideon Mack, a Church of Scotland Minister. Gideon disappeared from his home in January 2004 and his dead body was discovered a few months later on the slopes of a mountain.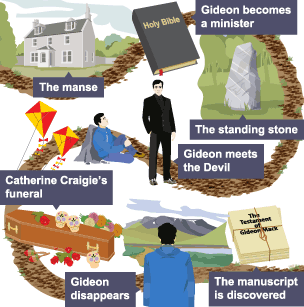 Testament
In the manuscript, Gideon Mack reflects on a series of key events and stages in his life:
The manse - Gideon is raised by a strict minister father and emotionally distant mother. He begins to have doubts and inwardly reacts against his deeply religious and strict upbringing

Gideon becomes a minister - Despite his lack of faith, Gideon studies divinity and becomes minister of Monimaskit. He marries Jenny despite loving Elsie Moffat

The standing stone - Gideon discovers a standing stone in Keldo Woods, despite never having seen it before. No-one he tells about it believes him

Gideon meets the Devil - Gideon falls into a local gorge only to emerge three days later. He remembers being rescued and healed by a mysterious man, who seems to be the Devil

Catherine Craigie's funeral - Gideon leads an unconventional funeral for his friend. He confesses his lack of faith, his affair with Elsie and his meeting with the Devil.

Gideon disappears - He becomes an outcast and is suspended from his position in the Church. He lives as a recluse and spends months completing his "Testament" before leaving town for the last time to be reunited with his friend, the Devil

The manuscript is discovered - after Gideon disappears his testament is found in a B & B and comes into the possession of the journalist Harry Caithness. Gideon's body is discovered on Ben Alder.
Epilogue
At the end of the manuscript, an epilogue sees the journalist Harry Caithness interview people from Monimaskit. They express a range of opinion about Gideon Mack and what happened to him – some question his honesty, others suggest he was mentally ill.
Elsie Moffat confesses that she had a long-term affair with Gideon and that she thinks he was the father of one of her children. She admits that she too saw the standing stone.