A person pulls a log with a force of 600 N at an angle of 40° to the horizontal.
a) i) Draw a scale diagram to show how the 600 N force is resolved to a vertical and horizontal component.
ii) Use this scale diagram to find a value for the vertical and horizontal forces.
iii) Use one of your answers in ii) together with a recalled equation to find the work done on the log if it moves 10 m in the horizontal distance.
b) The log has a mass of 90 kg and the gravitational field strength is 10 N/kg.
i) What is the weight of the log?
ii) Explain why the log is not lifted off the ground in this case.
This question has been written by a Bitesize consultant as a suggestion to the type of questions that may appear in an exam paper.
a) i)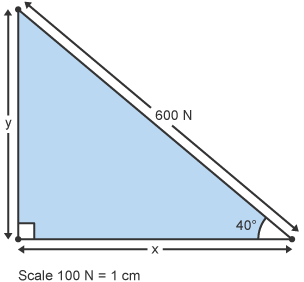 ii) These answers are found from the triangle by measuring x and y with a ruler and using the scale to find the force value.
Vertical component of the force = y = 390 N ± 20 N
Horizontal component of the force = x = 460 N ± 20 N
iii) Work done = force × distance moved in direction of force
= 460 × 10
= 4,600 J
b) i) Weight of the log = 90 × 10 = 900 N
ii) The vertical force of 390 N is less than the 900 N downward force of gravity.