A student carried out an experiment to prove that candle wax, a hydrocarbon, produces carbon dioxide and water vapour when it burns. The equipment used is shown in the diagram.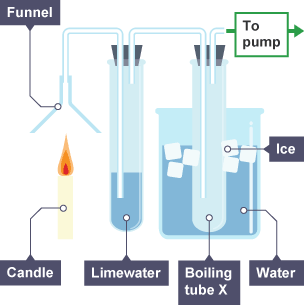 The gas produced from the burning candle is drawn through the apparatus.
The limewater turned milky showing that carbon dioxide had been formed.
A small amount of a colourless liquid condensed in boiling tube X. The student claimed that this proved that burning candle wax produced water.
The teacher said the apparatus had been set up incorrectly and therefore this conclusion about water was not valid.
Explain how the student could modify the equipment to prove that water is produced by burning candle wax.
[2 marks]
Edexcel question courtesy of Pearson Education Ltd.