In an experiment, dry air is passed backwards and forwards over hot, excess copper in the apparatus shown.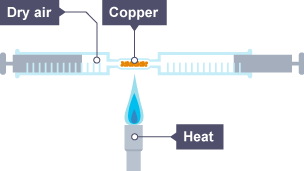 The oxygen in the air reacts with the hot copper to form copper oxide, CuO.
When the copper has reacted with all the oxygen, the apparatus is allowed to cool.
The initial volume of dry air in the apparatus was 50.0 cm3, measured at room temperature and pressure.
During the experiment the volume of gas in the apparatus decreased.
The percentage of oxygen in dry air is 21%. Calculate the final volume of gas remaining in the apparatus after allowing it to cool to room temperature. [2 marks]
Edexcel question courtesy of Pearson Education Ltd.