The area of the triangle is 5.45 cm2. Calculate the size of the angle YXZ. Give the answer to the nearest degree.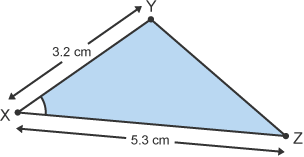 Use the formula:
Rearrange the equation to make
the subject.
Divide both sides by 8.48.
. Do not round this answer yet.
To calculate the angle use the inverse sin button on the calculator (
).
C = 40°
The angle YXZ is 40°.