Pip meets Miss Havisham and falls in love with Estella
Pip is taken to meet Miss Havisham, an eccentric lady who has shut herself away ever since her wedding was called off at the last minute. She never leaves her house, still wears her wedding dress and despises all men. Pip also meets Miss Havisham's adopted daughter Estella who is being brought up by Miss Havisham to break men's hearts. Estella therefore treats him cruelly especially when she talks about Pip's background as a common boy. Pip makes many visits to them and gradually falls in love with Estella. He dreams of becoming a gentleman so that he can be worthy of her.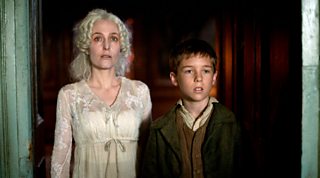 As a reward for his visits Miss Havisham pays the money which allows Pip to become Joe's apprentice; he works in the forge with Joe and Orlick. Though it is not what he really hoped for, Pip becomes a steady worker trying to educate and improve himself with the help of a local girl, Biddy. During this time Mrs Joe is savagely attacked and becomes unable to care for the family anymore. Biddy moves into the family home to help them out.