At the beginning of William Shakespeare's tragedy, Hamlet, guards patrolling the castle wall at night are waiting for a ghost to reappear - they're afraid. Very, very afraid. They think it's the ghost of Hamlet's father who has recently died. They call Hamlet's close friend Horatio to come along to view the ghost for himself.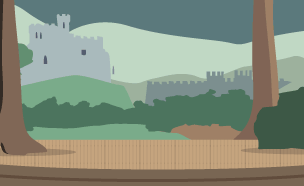 Imagine that you are setting this stage production in Elizabethan England. What techniques could you use to create the right atmosphere for this scene? Think about:
backdrop

lighting

props

guards' costumes

ghost's costume
You need to create an atmosphere that is spooky and frightening.
Backdrop

- grey castle walls. The scene is set in a castle.

Lighting

- dim lighting. The scene is set at night, but the audience need to be able to see the guards.

Props

- swords for the guards.

Guards' costumes

- grey uniforms. The audience needs to recognise that these characters are guards.

Ghost's costume

- no costume - you don't want the ghost to be seen... you just want to hear a booming voice. Sometimes things are more frightening when you can't see them. The booming voice will give the ghost power.