A student uses this circuit to investigate how the current in a filament lamp varies with the potential difference (voltage) across the lamp:
The student takes a range of measurements for the filament lamp.
He plots this graph from his measurements: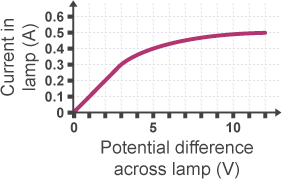 Explain how changes in the filament of the lamp account for this graph. [4 marks]
The resistance of the lamp is constant up to 3 V [1]. It is:
[1]
Then as the filament becomes hotter, its resistance increases [1]. This means the current is lower, and the gradient of the line becomes less steep [1].