Asexual reproduction in plants
It is possible for plants to reproduce asexually (ie without fertilisation in flowers).
Three methods of plant asexual reproduction are:
Bulbs

- underground food storage organs with fleshy leaves that store food and can grow and develop into new plants, eg onions and garlic.

Runners

- horizontal stems, eg strawberry or spider plants.

Tubers

- underground food stores. Groups of cells in the tuber use this food to produce the energy needed for cell division. These cells then grow and develop into new plants.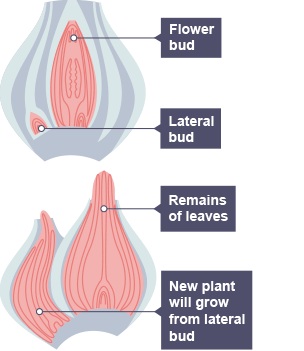 Humans are able to make plants reproduce asexually by artificial propagation. Taking cuttings and grafting are two methods for artificially propagating large numbers of genetically identical plants.