An investigation was carried out to find the effect of surface area to volume ratio on the rate of absorption in plants.
Cubes of potato were cut to the following sizes: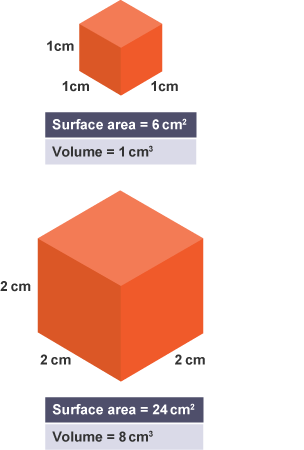 The cubes were carefully blotted dry, weighed and their masses recorded.
One cube, 2 cm × 2 cm × 2 cm, was put into a beaker and completely covered with distilled water.
Eight cubes, each measuring 1 cm × 1 cm × 1 cm, were put into another beaker and completely covered with distilled water.
At regular intervals for a period of 45 hours, the cubes were removed from the beakers, blotted dry, re-weighed and then replaced into fresh distilled water. The percentage increase in mass was measured for the eight cubes of side 1 cm and the one cube of side 2 cm. The results are shown in the graphs below.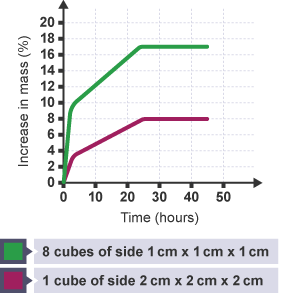 a) State why eight cubes of sides 1 cm × 1 cm × 1 cm were used in this investigation. [1 mark]
b) i) Name the process which caused the cubes to gain mass. [1 mark]
ii) Describe the process by which the cubes of potato gained mass. [3 marks]
Question courtesy of Eduqas.
a) To keep the volumes the same. You may have also said the volume of the 1 cm3 cubes is the same as the 8 cm3 cubes. [1]
b) i) Osmosis [1]
ii) Water passed in [1] from where it was in high concentration to low concentration/down a gradient [1] via a semi/selectively/partially permeable membrane [1].