The main themes addressed in this story are:
the limiting and destructive nature of some family relationships

the cost to the individual of being dutiful

the hardship and restrictiveness of rural life
The relationship between John and his mother is memorable because it is so entirely lacking in any sense of maternal affection. Instead, the mother is a spiteful, hateful woman whose main pleasure seems to be derived from constantly humiliating and emasculating her son.
This is not an autobiographical account but there are some interesting parallels in Crichton Smith's own life. Like John, he was raised in a rural highland community by a widowed mother and their relationship was uneasy.
Despite this, it was he who looked after her in her old age and he didn't marry until after her death.
In this story, Crichton Smith forces us to acknowledge the corrosive and harmful effects of some familial relationships. He emphasises that sometimes the only way to find real fulfilment and quality of life is to sever such ties.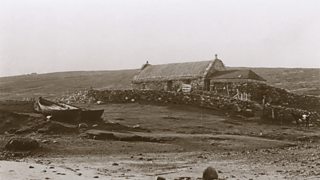 In John we see the detrimental effects of caring for his mother and fulfilling the role of dutiful son. He is denied the fraternal bonds available to the other boys in the village and is effectively isolated from the local community.
Despite his physical attractiveness, there is little prospect of any romantic relationship. The poverty of his existence is evident. In fulfilling his duty as a son, John has sacrificed any hope of personal happiness. The cost of duty is too high.
At the end though, there is a sense of hope that finally John will free himself from duty and find the courage to leave and address his own needs, dreams and desires.
The restrictiveness of rural life is a recurring motif in many Crichton Smith stories and this one is no exception. The conditions are hard, the lifestyle is bleak and the landscape is suffocating in its dullness.
There are parallels in this story with The Red Door, The Painter and The Telegram. All four contain criticisms of the insular narrow mindedness that Crichton Smith often associates with these rural environments.
However, of the four village stories, Mother and Son is the most negative and claustrophobic. The open door at the end therefore symbolises the wider world and society. It hints at the promise of a much more fulfilling and enriching way of life.