Case study: Hurricane Katrina
Hurricane Katrina was a devastating storm that hit the area around New Orleans, USA, on 25 August 2005. It had social, economic and environmental impacts:
Social impacts of the hurricane (effects on people)
1,800 people died.

300,000 homes were destroyed.

3 million people were left with no electricity.

People had to move out of the area.
Economic impacts of the hurricane (effects on money and jobs)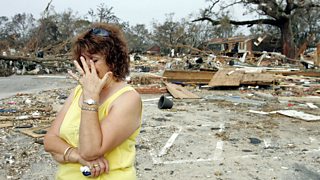 Environmental impacts of the hurricane
The

storm surge

flooded large areas of the coast.

80% of New Orleans flooded as man-made

levees

, overwhelmed by extra water, broke.

Cotton and sugar cane crops were destroyed.

Delicate coastal

habitats

were destroyed.

Tornadoes were created.