The impact of technology on the promotional activities of businesses
Traditional methods of promotion can be expensive, need to be planned in advance and may not always reach the intended audience. New digital forms of advertising allow businesses to communicate quickly, efficiently and directly with consumers.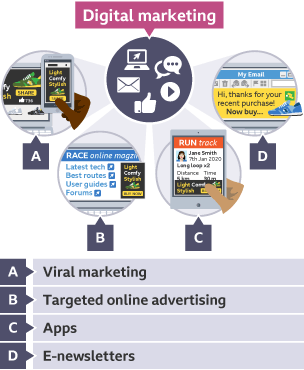 Digital marketing tools can be used by businesses of any size, and some techniques allow interaction between the business and the consumer. The digital tools available include:
Viral marketing on social media
Viral marketing involves producing marketing materials that can be shared, usually on social media. It requires content, such as a video, that appeals to users to encourage them to share it. This can be used to support a campaign, as well as to market a product or service.
Businesses may often use their own social media pages to advertise their products, run competitions and sell products. Often, businesses use social media influencers, people with a large following to help promote their products to a specific target market.
Targeted online advertising
Website owners can track the online activity of consumers who visit their site by using cookies. They can use cookies to build a profile of consumers' interests. They can then serve adverts for products suited to the individual consumer.
Businesses can also use search engines such as Google and Yahoo to effectively advertise at their intended target market. Search engines often charge businesses to appear further up the rankings or appear at the top of the first page.
Mobile apps and advertising
Mobile applications, or apps, enables businesses to personalise promotional materials and offers for specific consumers. They can also enhance customer convenience, for example, grocery shopping apps, and increase customers' interaction.
Businesses can advertise within an app, and apps also enable innovative interaction with customers. For example, apps enable customers to see products and services and may also allow customers to book appointments, find special offers or track their orders. Many apps use a 'push' notification system to interact with customers regularly, giving updates about products and services. Many gaming apps and other free apps are also used as advertisement methods for businesses, whereby to continue to use an app, you have to engage with an advertisement.
Mobile advertising is also done through the use of text message, many business now send offers and promotions about products to customers through text messages.
E-newsletters and pop-ups
Electronic newsletters can be distributed via email to consumers who have signed up to receive them. They are a good way for a business to keep in touch with consumers who have previously purchased, or shown an interest in, products that the business sells.
Pop-ups are another form of advertising online. These are adverts that appear in any browser without you going on a specific website. Potential customers on the internet often see pop-up adverts as an annoyance and may avoid using these websites.
Digital adverts
Digital adverts are adverts shown on screens such as billboards and other large screens. Digital adverts as much more convenient than traditional types of advertising, as they can be easily changed and can display multiple adverts in a sequence. Digital advertising is very popular in sporting events, for example with digital media displays all around a sporting venue.
Blogs
Blogs are used by businesses to create an interest in their products, blogs tend to be more interactive than website product pages and social media. Blogs often offer a deeper insight into how and why the products could be used and the benefits of using a product. Blogs are popular in the fashion industry for example, where businesses may offer advice on creating outfits out of their products.