The hospitality industry is a service industry, however it does provide both products and services to customers.
Products are items sold by a hospitality outlet. They may be made within the outlet or bought in ready made for sale.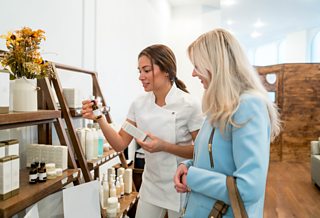 A hotel spa might sell beauty products or scented candles.
Services are provided to meet the needs and expectations of the customer and to improve their experience.
The quality of the products and services on offer will be influenced by the cost. A customer cannot expect the same quality in a bed and breakfast as in a five star hotel.
However, the quality of both the product and the service is important for the reputation of an outlet.
For example, customers may be served very good food in a restaurant but if they have to wait a long time for it to be served they will not be impressed and are likely not to return so business may be lost.
Let's take a look at the products and services provided by the different departments of a hotel:
Food preparation and service
| | | |
| --- | --- | --- |
| Products | Services | Standards expected |
| Food prepared and cooked | | Correct temperature; appetising appearance; well flavoured |
| Beverages, food/dishes served | Plated table service; silver service; Guéridon; buffet service; room service | High standard of serving skills; fast service without rushing customers; pleasant staff with good interpersonal skills; high personal standards – well presented, clean uniform; clean, tables and dining room with properly laid tables comfortable chairs; high chairs for children; alternative dishes to cater for customer requests |
| Snacks and drinks in vending machine | Vending machines and hot drinks machines in hotel corridors | Good range of products available; refilled regularly; available out of hours |