Customer service
Customer service is the experience a customer gets when using products made by the business. Satisfied customers make repeat purchases and recommend the product to friends, leading to additional word-of-mouth sales.
Customers want to buy goods and services that meet their needs at a price they can afford. For example a café thrives when friendly staff serve tasty, well made meals, in generous portions, at competitive prices.
How to improve customer service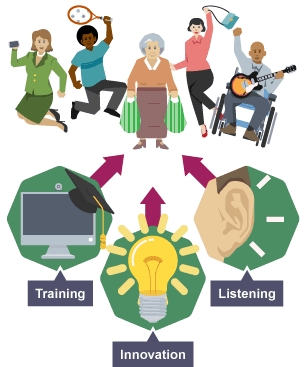 Successful businesses define the quality or standard of service needed to meet customer needs. For instance, a café can aim to take no more than 5 minutes to serve any customer once they have ordered their meal.
Ensuring that quality standards are met requires:
Training

so that staff understand their role and responsibilities. For instance, asking every customer if they are happy with their meal.

Innovation

or introducing new ideas and methods. For example, altering the menu every three months keeps customers interested and helps a café to stay one step ahead of the competition.

Listening

to customers helps a business adjust its products to better match consumer needs and respond to any problems.
Price versus customer service
Customers compare price with customer service. Few customers expect high quality service when buying low priced items. For instance, travellers using a budget airline accept that they must pay for extras such as an in-flight meal. First class customers expect luxury seats and free champagne. The challenge facing all businesses is to remain competitive. They must keep prices competitive while offering a better service than rivals.