The Curious Incident of the Dog in the Night-Time follows the story of Christopher Boone, a 15 year old, who is exceptional at Maths but finds people confusing. The play opens with Christopher discovering a dead dog in his neighbour, Mrs Shears', garden. Despite his father, Ed, warning Christopher not to get involved, Christopher decides to investigate the death of the dog. In doing so he discovers that his mother is not dead as his father had told him, but alive and well, living in London. He also discovers that it was his father who killed the dog.
Christopher feels that his father is a murderer, who he cannot trust. He can no longer live with him and so he bravely travels to London to find his mother. Christopher has difficulty settling into his new life in London and returns to Swindon to take his A-level Maths exam. The play ends with him passing the exam and the realisation that he can do anything he puts his mind to.
Social context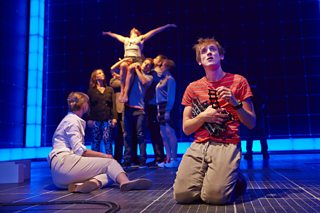 Credit
:
Brinkoff/Mögenberg
The Curious Incident of the Dog in the Night-Time is an adaptation by Simon Stephens of the original novel by Mark Haddon. Published in 2003, the novel quickly became a huge success. Many readers discuss and recognise Christopher as having autism or Asperger's syndrome. This, however, is never mentioned directly in the novel. Haddon also states that he did very little research into the topic of autism whilst writing the book.
Mark Haddon approached Simon Stephens to adapt the book for the stage. Stephens used the dialogue from the novel as the driving force for the adaptation. He felt that its popularity was due to the play being a story about family and bravery. The play was first staged in 2012 at the National Theatre. It was very popular with audiences and has since moved to the West End and Broadway.