An air mass is a large volume of air which travels from one area to another. An air mass is a large body of air - usually thousands of kilometres wide.
It will remain over a place for a period of time and will pick up the key temperature and moisture characteristics of that area.
It will then start to move bringing those characteristics with it.
Air masses never mix. Our weather is determined by which air mass is most dominant at that time. This is one of the reasons why our weather can be so different from one day to the next.
The weather an air mass brings is determined by the region it has come from and the type of surface it has moved over.
There are five main air masses which affect the UK as detailed by the map below.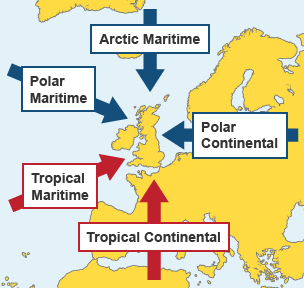 To understand the weather an air mass brings, it is important to remember three things:
Continental air masses travel over land so bring dry.
Maritime air masses travel over the sea which makes them wet. (Maritime is another word for sea.)
Polar air masses come from polar regions which makes them cold.
The Arctic air masses travels from the Arctic circle. This make the air mass cold.
Tropical air masses travel from closer to the Equator, from Northern Africa and the Mediterranean. This makes them hot.