Football - an overview and history of the sport
Overview
Football brings together a combination of skill, athleticism, and tactics. The game is contested by two teams of 11 players and involves one team invading another team's territory, with the aim of scoring a goal. However, from this simple premise comes a huge range of strategies, tactics, and techniques to achieve overall success. Professional teams now employ sport scientists, performance analysts, nutritionists, and psychologists, in addition to a range of coaches to improve performance.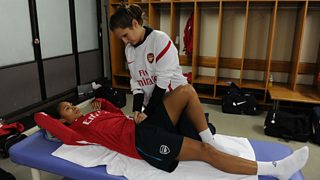 The game today has a number of different formats and can be played competitively and recreationally in a range of different disciplines.
History
Although the true origins of football are unknown, there is evidence that a similar game was played by the people of China more than 2,000 years ago. The basis for the modern game is less complicated and can be traced to a medieval village ball game in 19th century England which was gradually moulded and developed in the elite boys' public schools of Victorian England such as Winchester School.
The original game was revolutionised in 1863 with the formation of the English Football Association and the publication of the first official rules. These basic rules may have changed but their ideals are very similar to today.
These rules helped the development of football and it has been rapidly growing ever since.
1872 - The FA Cup was established by the English sportsman CW Alcock.

1872 - The first international football match was played between England and Scotland (Match finished with a 0-0 draw).

1886 - The International Football Association Board (IFAB) was formed for regulating the Laws of the Game of football.

1888 - The Football League was created by the director of Aston Villa Football Club.

1904 - FIFA (Federation Internationale de Football Association), the international governing body of football, was founded in Paris.

1930 - The first World Cup was held in Uruguay and was contested by 13 nations. It was won by Uruguay.

1991 - The first FIFA Women's World Cup took place. Hosted by China, it was won by the United States.