Case study - Kielder reservoir water transfer scheme
Location
Kielder is located in an area of high land called the Pennines. This means that it receives more rain than areas to the east, which lie in the rain shadow. Water that collects in Kielder reservoir is transported southwards and released into rivers that flow to the cities of Newcastle-upon-Tyne, Sunderland, Durham, Darlington and Middlesbrough.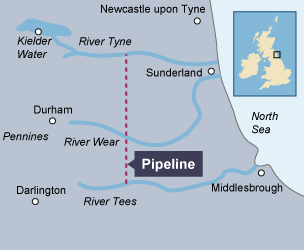 Advantages
Kielder reservoir has brought many advantages:
Electricity is generated through

hydroelectric power

(HEP) at the dam. This is a reliable and clean source of energy.

The reservoir has reduced

water insecurity

in the north east. Rivers that flow into cities like Middlesbrough and Sunderland have much more water in them.

Tourism at Kielder has created new jobs and generated incomes. People visit the reservoir for water sports and for the beautiful scenery that has been created around the lake.
Disadvantages
The breeding patterns of fish have been disrupted through the dam blocking the river. Also, fewer pebbles travel downstream, which impacts on habitats.

Many families were moved from their homes in order to make way for the dam and reservoir.

Farmland and many habitats were lost when the land behind the dam flooded.