Genetic inheritance
Genetic key terms
DNA

is a natural polymer made of nucleotides. It forms two strands in a double helix. It carries the genetic code, which controls how an organism develops and functions. With the exception of identical twins, each person's DNA is unique.

Chromosomes

are contained inside the cell's

nucleus

. These are long, thin, threadlike structures made from molecules of DNA that store genetic information. Chromosomes are found in the nucleus of body cells in pairs - one chromosome is inherited from the mother and one is inherited from the father. The chromosome in each pair carries the same gene in the same location. These genes could be the same, or different variants.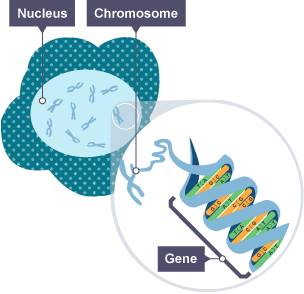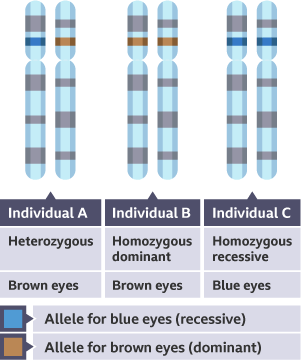 Alleles may be either dominant or recessive:
Most characteristics are a result of multiple genes interacting, rather than a single gene.