The Church year is split into different seasons based on the life of Christ.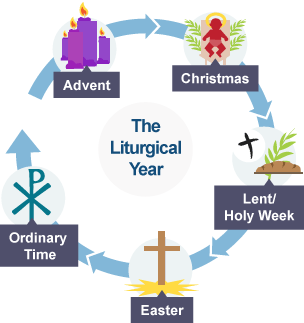 The liturgical year starts with Advent at the end of November/beginning of December, and ends the same time the following year.
The main seasons are:
Advent

Christmas

Lent/Holy Week

Easter

Ordinary Time
In addition to these, feast days are also celebrated throughout the year. By celebrating the liturgical year, a Catholic is celebrating the life and mystery of Christ.
The day of Christ, the day that is Christ, constitutes the liturgical season. Whoever follows Him, offers himself to Him, unites himself to His living sacrifice with his whole being, fulfills the work of God, that is, the liturgy.

CCC 1163-1165 (Catechism of the Catholic Church)