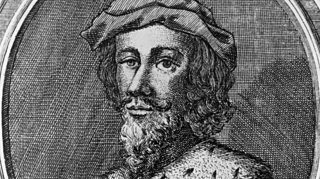 King Alexander III died in March 1286:
he had been travelling from Edinburgh to Kinghorn in Fife on a stormy night

he became separated from his advisers after leaving Inverkeithing

he was found dead the next day, apparently having fallen from his horse
Alexander's death plunged Scotland into a succession crisis as he had no living children to take his place:
His wife Queen Yolande was thought to be pregnant but this turned out to be false.

Alexander's two sons had died before him.

His daughter had died during childbirth.
The Guardians are chosen
In 1286, six Guardians were elected at a Parliament at the Palace of Scone to carry out the running of the government.
The Guardians decided that Alexander's granddaughter Margaret, the Maid of Norway would be Queen. However, this choice was not an ideal solution for a number of reasons:
Margaret was very young and would need help to rule.

She was a girl and would find it difficult to lead an army.

The question of her marriage. If she married a foreign prince, Scotland could fall under foreign control. If she married a Scottish noble, it could cause civil war.

She lived in Norway.
The Scottish nobles agreed the following actions:
'Guardians of the Realm' would be appointed to rule until Margaret arrived.

A Regent would be appointed to rule until Margaret was old enough to rule on her own.

The Guardians would find Margaret a husband.