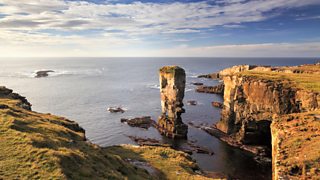 In order to successfully comprehend the six stories by Brown on the Scottish Set Text list, a level of understanding and appreciation of the Orkney Islands is essential.
The Orkney Islands are situated close to the extreme north of mainland Scotland. Orkney has a population of around 21,500 (this is approximately 3% of the population of the city of Glasgow).
There are approximately 67 Orkney Islands in total, with the population spread over 17 of these islands. The two main settlements in Orkney are the towns of Kirkwall, the capital, and the town of Stromness. Brown's hometown, Stromness, is often referred to as 'Hamnavoe' in his work, the Norse name for the town.
At the start of the 9th century, an influx of Norse settlers made for Orkney, and towards the end of the 9th century, Orkney was brought under Norwegian control. From their Orkney base, the Vikings carried out a number of raids, often on mainland Scotland. Brown imagines one of these raids in the short story Tartan.
Orkney remained under Norse rule, in a variety of different forms, until 1468, when it was incorporated into part of Scotland, how it remains today. Orkney played a vital, strategic part in both World War One and World War Two.
In both wars, the natural harbor of Scapa Flow was used as the main British naval base. The time of the Second World War, and the impact it had on Orkney, is explored in the short story The Wireless Set.
Orcadian history is of the utmost importance into Brown's view of Orkney. History has carved a distinct identity for Orcadians and Brown felt it was vital to upkeep this identity.
Brown wrote in 1969 that I have tried to make a kind of profile of Orkney, which is not a likeness of today only; it has been worked on for many centuries. As you will discover, Brown's depiction of Orcadian history is far from a romanticized view - Brown rallied against the creation of a kind of sentimental make-believe history, very different from the terrible and fruitful things that actually happened to our ancestors. In the stories you will study, Brown depicts the hardships and struggle that many people endured.