The Author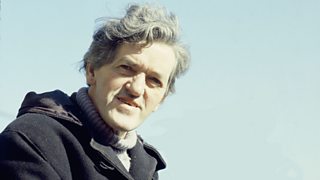 George Mackay Brown (1921-96) was born in Stromness, a small town in the Orkney Islands. Apart from short periods studying in and around Edinburgh, Brown rarely left Orkney. His native islands inspired him and his short stories reveal different aspects of rural island life.
The youngest of six children, Brown experienced a modest upbringing in Stromness. He went to Stromness Academy, where he created and distributed his own magazine 'The Celt' (named after his favourite football team, Celtic). He was also a highly skilled footballer.
Brown was oftendisillusioned with school and left Stromness Academy with few qualifications in 1940. At this time his father passed away suddenly and this provoked his first bout of depression, an illness that would follow Brown for much of his life. In 1941 Brown was diagnosed with tuberculosis (TB). Following this diagnosis, Brown spent six months in hospital. He recuperated enough to leave hospital, but never fully recovered and spent considerable spells in hospital throughout his life.
Whilst recuperating, Brown read widely and develop his writing skills. In 1944 he was hired as a journalist with a local Orkney newspaper, The Orkney Herald. Brown began regularly contributing articles to the newspaper and also had poems published in magazines. He continued to write for Orkney newspapers for the next 52 years, with his final article appearing just days before his death in 1996.
Brown moved to Dalkeith in 1951 to study at Newbattle Abbey College before then graduating from Edinburgh University in 1960. Brown had his first volume of poetry, The Storm, published in 1954. He was beginning to explore themes of rural life, birth, love, death and religion in his writing.
He started to train as a teacher in 1960 but decided that he wasn't suited to the role. After years of carefully considering his decision, Brown was received into the Roman Catholic Church in 1961. Brown's religion was a huge source of inspiration to him and religious themes are very prominent throughout his work.
In 1967, Brown's first collection of short stories, A Calendar of Love, was published. This was quickly followed by the A Time to Keep collection in 1969. The six short stories studied for Higher English are all included in A Time to Keep and this collection is widely regarded as some of Brown's finest work.
Brown was awarded an OBE in 1974 and also won a number of literary prizes. He wrote widely up until his death. Prone to being shy and nervous, Brown avoided interviews and readings where he could, but he often welcomed guests into his small home in Stromness.
Despite suffering from ill health for the majority of his life, Brown's death was relatively sudden. In April 1996, Brown caught a cold, developed bronchitis and passed away. Nowadays, Brown is rightly remembered as one of Scotland's greatest writers.