Government schemes
Benefits cap
In 2013 the Coalition Government introduced a benefit cap that limited how much a non working household could get in benefits. In 2017 the lowered the cap further. In London benefits are capped at £23,000 and in the rest of the UK £20,000 per family per year.
Universal Credit
Universal is a government policy to replace six existing benefits with one universal payment. The six benefits being replaced are Housing Benfit, Child Tax Credit, Income Support, Working Tax Credit, Job Seekers Allowance and Employment and Support Allowance.
Although it was expected that this new system would be completed by 2017, it will now not be completed until 2022, five years behind schedule.
In return for receiving Universal Credit, those unemployed must look for work or take steps towards it. This may include preparing a CV, attending training courses, applying for suggested vacancies or registering with a recruitment agency. In most cases they must also be available and willing to immediately take up work and attend interviews to discuss plans and opportunities for returning to the workplace.
Universal Credit claimants must accept a claimant commitment and if they refuse they will not be entitled to Universal Credit. If the claimant does not do what he or she has committed to do, they will face tough penalties such as their benefit being reduced or withdrawn for up to three years.
Child Benefit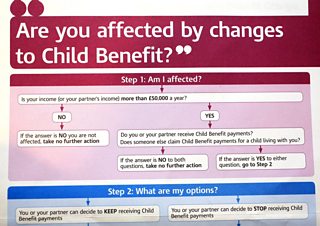 Child benefit is a tax-free payment that is aimed at helping parents cope with the cost of bringing up children. However, changes to the rules came into force in January 2013 and all parents are no longer entitled to child benefit. Families where one parent is earning more than £50,000 a year cannot claim the full amount. Those who are eligible for the full payment can claim £20.70 a week for an eldest or only child and £13.70 a week for each other child. The payments apply to all children aged under 16 or who stay on at school. Child Benefit will continue to be available in addition to Universal Credit, but payments for children are now means-tested.
The Early Years Framework
It is now widely accepted that the first three years of a child's life are critical to its life-long development. Therefore the government now tries to intervene early on with families where children are living in poverty and/or have parents with drug, alcohol or emotional issues.
The Scottish Government approach focuses on the Early Years Framework. This is an attempt to veer away from a reactive, crisis management approach towards prevention, early identification and early intervention in the lives of vulnerable children. In 2011, the Scottish Government appointed a Minister for Youth and Women's Employment and a number of initiatives have been set up to tackle the problems.
More Choices, More Chances
More Choices, More Chances is the Scottish Government's strategy for reducing the number of young people who are not in education, employment or training (NEET).
It demands action from a range of agencies and private businesses to help tackle the NEET problems.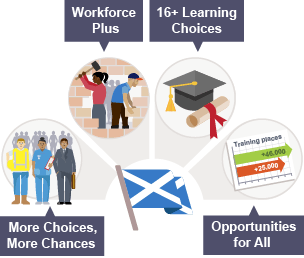 Workforce Plus
Workforce Plus aims to provide specific help for the long term unemployed, especially those who have particular barriers in getting and holding down a job. It offers support to individuals and employers by providing more personal plans.
16+ Learning Choices
16+ aims to give every young person moving into the Senior Phase of the Curriculum for Excellence the guarantee of an offer of post-16 learning. Schools and local authorities are to work in partnership to identify and track vulnerable young people in order to provide them with a study offer. If that learning ends before a person is 18, Skills Development Scotland will try to find them options to study.
Opportunities for All
Under Opportunities for All, every 16 to 19 year old in Scotland will be offered a learning or training place in education or a Modern Apprenticeship if they are not already in a job. The Scottish Government will provide 46,000 training places including 25,000 Modern Apprenticeship opportunities in each of the next five years. It will also prioritise provision in colleges for 16 to 19 year olds and retain the Education Maintenance Allowance to provide financial support to those from lower income backgrounds to stay on at school.