Case study: management strategies in glaciated areas (Lake District)
Glaciated areas in the UK attract many tourists each year. This high number of tourists can cause environmental problems. Conflict over how glaciated areas are used can be minimised through the use of effective management strategies. Management strategies are ways of reducing the impact that tourists have on the mountain environment.
Traffic
One of the biggest problems caused by tourism in the Lake District is traffic. This is being managed through the £6.9 million initiative called the Go Lakes Travel Programme which aims to:
improve public transport to reduce congestion

create a network of pay as you go car hire and bicycles

create safe continuous routes for walking, cycling and wheel chair users

provide integrated travel tickets that include different types of transport

ensure that local residents benefit from improvements in public transport
Footpath erosion
Fifteen million tourists visit the Lake District each year to walk in the mountains. This has resulted in severe footpath erosion which is being addressed through the Fix the Fells project. This is a partnership of six organisations, lead by the National Trust, to restore and maintain footpaths in the Lake District.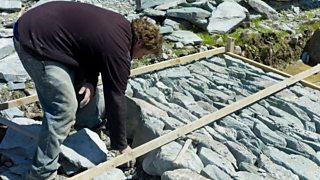 Responsible tourism
Responsible tourism is being encouraged by the charity Nurture Lakeland. The charity encourages local businesses and tourists to donate money to conservation projects in the area. It also encourages tourists to behave responsibly whilst they are on holiday, eg by not dropping litter, staying on marked footpaths and using public transport.