An investigation is made into how the mass used to keep a wire under tension affects the wavelength of waves on the wire when oscillated by a vibration generator.
A wooden bridge supporting the wire is moved until two loops (equivalent to one wavelength) is seen after adjusting the masses used.
The experiment is done again to obtain a repeat set of readings.
The diagram illustrates this arrangement: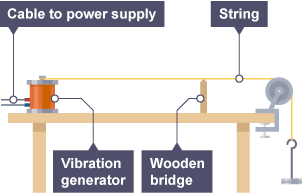 The frequency of the vibration generator and power supply is 50 Hz.
The table shows the data collected:
| Mass (g) | One Wavelength (cm) - First attempt | One Wavelength (cm) - Repeated attempt |
| --- | --- | --- |
| 100 | 40.1 | 39.9 |
| 200 | 28.0 | 28.3 |
| 300 | 23.1 | 28.6 |
| 400 | 19.9 | 20.1 |
State with a reason which reading appears to be in error and what should be done to find the speed of waves in the string in each case? [4 marks]
The reading mass = 300 g, wavelength = 28.6 cm is likely to be in error [1] because it does not follow the pattern of the other readings which show a clear decrease in wavelength as more mass is added [1].
To find the speed of the waves in each case:
find the average wavelengths for each mass [1]

use v = fλ to find the wave speed (frequency is already given as 50 Hz) [1]
A working solution would either make the image larger or allow the student to see the smaller image more clearly.