Giant covalent structures
Covalent bonding leads to the formation of simple molecules, which contain a small number of atoms. It can also lead to the formation of giant covalent structures, which contain very many atoms.
Silica is the main compound found in sand. It contains silicon and oxygen atoms joined together to form a giant covalent structure. The atoms have a regular, repeating arrangement called a giant covalent lattice.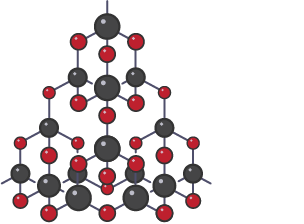 Chemical formulae
Unlike simple molecules, giant covalent structures do not contain fixed numbers of atoms. This means that the chemical formula used for a giant covalent substance is its empirical formula. An empirical formula is the simplest whole number ratio of the atoms of each element in the substance. For example, the formula for silicon oxide is SiO2. It shows that there are two oxygen atoms for every silicon atom in the structure of silicon oxide, which is why it is often called silicon dioxide.
Polymers
Simple polymers consist of large molecules that contain chains of carbon atoms. Like giant covalent structures, simple polymer molecules contain varying numbers of atoms. A typical poly(ethene) molecule may contain thousands of carbon atoms joined together in a chain.