The image below shows a ripple tank used to model the behaviour of waves.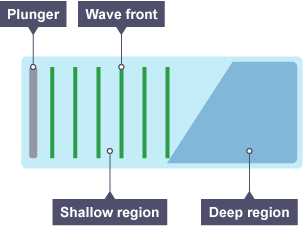 Some students investigate the properties of the waves generated.
Student A says 'the waves move water from one end of the tank to the other'.
Student B says 'that's wrong. Only the waves move, not the water.'
Suggest what the students could do to decide which of them is correct. [2 marks]
Place a floating object/plastic duck on the surface of the water [1].
It will stay in the same place or only bob up and down if the water does not move [1].