Detailed plot summary - Part 3
Eric's Confession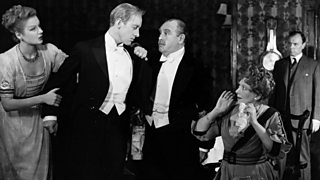 Mrs Birling looks very stupid after Eric admits that it was he who got Daisy pregnant. Like Sheila, he is very ashamed of his actions and is honest about his involvement with Daisy. He tells the Inspector that he drinks heavily and how, during a night out, he met Daisy. He admits that the first time they met he walked her home and pressured her into letting him into her lodgings. He slept with her that evening and on a further evening. When he next met Daisy, he found out that she was pregnant. They both knew that they weren't in love and marriage wasn't an option but Eric wanted to help by giving her money. She refused to accept the money when she found out Eric had stolen it from his father's business.
The Inspector leaves
The family are distraught by this point and are arguing amongst themselves. The Inspector interrupts and makes a speech about how if we are not responsible for each other, there will be terrible consequences. The Inspector leaves and Gerald returns after a walk outside. He met a police officer and found out that there was no Inspector Goole on the force. They also begin to wonder if the girl mentioned to each of them could have been 'four or five different girls', suggesting that the whole evening could have been a trick. Gerald rings the local infirmary and discovers that no girl who had died by drinking disinfectant had been admitted. Mr and Mrs Birling and Gerald are excited by the idea that they may not be to blame. Eric and Sheila are aware that it makes no difference whether or not the Inspector was real, they still behaved badly.
The phone rings
Just as Mr Birling is mocking the Inspector and is celebrating that he is off the hook, the phone rings. Mr Birling answers and to his horror it is the police. They inform him that a girl has just died after drinking disinfectant and a police officer is on their way to ask the family some questions. The curtain falls and the play ends.