Although global trade collapsed during the recent financial crisis, it has since bounced back strongly, led by trade among emerging markets, like Brazil and the Philippines.
The graph below shows the forecast for global increasing.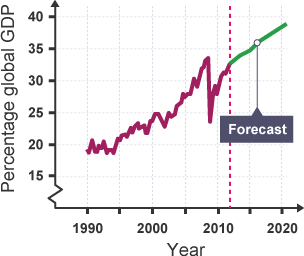 The bar chart below clearly shows the continued dominance of developed countries in world trade. For developed countries, and China, profits from world trade run into thousands of billions of dollars.
This is compared to Brazil 242 580 (USD Million), Philippines 51 995, Malawi 11184, Uganda 2357 and Rwanda 591.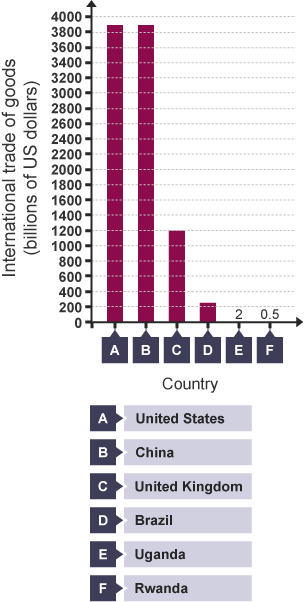 Experts believe that rapid growth markets will become an even more dominant force in global trade over the coming decade, with the Asia-Pacific region set to experience the fastest growth in global trade to 2020.
Trade will also be increasingly focused around Asia, the Middle East and Africa, suggesting that the key geographical location for companies will change.
Europe's exports to Africa and the Middle East by 2020 are forecast to be almost twice as large as Europe's exports to the US.
China's dominance in low cost manufactured goods will come under pressure from countries such as Bangladesh, Vietnam and parts of Africa.
The fastest-growing trade route will be between India and China. Some experts believe trade between China and India alone will account for almost one-fifth of global trade flows by 2020.
There is a huge amount of trade across borders. This however, may reflect trade within and between companies, rather than flows to final consumers.
Many companies export finished goods across borders within their own organisation.