Developed countries no longer have as large a share of international trade as they once did.
Between 1995 and 2010 their share in world merchandise trade dropped while developing countries increased their share.
Over this 15-year period, China's share alone increased from 2.6 per cent to about 10 per cent.
Over the same period, the market share of Latin America and the Caribbean increased from 4.5 per cent to 5.9 per cent.
The value of Africa's merchandise exports rose from $100 billion in 1995 to $560 billion in 2010. Its share in world trade improved modestly from 2.0 per cent to 3.2 per cent.
East and South Asia include three of the most dynamic emerging economies: China, India and the Republic of Korea.
They accounted for around one third of world exports and two thirds of developing country exports in 2010, as can be seen in the graph below.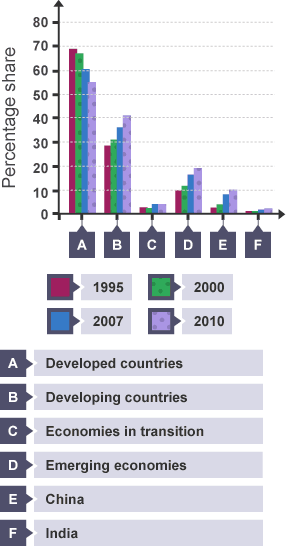 Between 1980 and 2011, developing economies raised their share in world exports from 34 per cent to 47 per cent and their share in world imports from 29 per cent to 42 per cent.