The figure below shows a coil and a magnet. An ammeter is connected to the coil.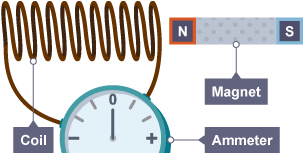 The ammeter has a centre zero scale, so that values of current going in either direction through the coil can be measured.
A teacher moves the magnet slowly towards the coil.
Explain why there is a reading on the ammeter. [6 marks]
There is a magnetic field around the magnet. The magnetic field moves when the magnet moves. As the magnet moves, the magnetic field lines cut through the coil. This induces a potential difference in the coil. A current is induced because the coil forms a complete circuit. [6]
Before starting a question of this type, it may be useful to list the scientific key terms to be included, eg magnetic field, coil, induced, potential difference, current. These can then be used to structure the answer as a sentence can introduce and link each term to the others.