Molecules can move into or out of cells by the process of diffusion.
The video below shows how you can investigate diffusion and selective permeability using a model cell.
Diffusion is the net movement of molecules from an area where they are at a higher concentration to areas where they are at a lower concentration. This is due to the random movement of the molecules.
The difference in the concentration of a substance between two areas is called the concentration gradient. The bigger the difference, the steeper the concentration gradient and the faster the molecules of a substance will diffuse.
The direction of diffusion is said to be 'down' or 'with' the concentration gradient.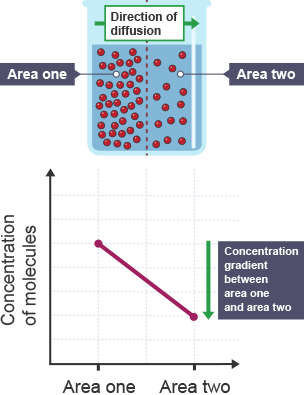 Diffusion stops when the concentration of the substance is equal in both areas. This does not mean that the molecules of substance are not moving any more, just that there is no overall movement in one direction. Molecules of substance are moving equally in both directions.
Diffusion can be observed by placing potassium permanganate into a beaker of water.