To try and develop a fairer trading system, the Fairtrade Foundation was established in the UK. When a product is marked with a Fairtrade Mark it means:
a fair price is paid for their product

there are opportunities to improve living standards

a stronger position for the product in the global market

opportunities to invest in their local community

in return the farmer must farm in an environmentally friendly way and treat their workers fairly
However, the global supply chain is complex and it may be difficult to ensure that every layer in the production meets ethical and environmental standards.
The map below shows the split between fairtrade producer and consumer countries.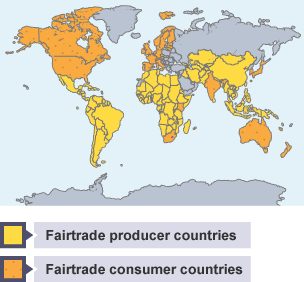 Fairtrade products are becoming more widespread and include tea, coffee, sugar, chocolate, flowers and even clothing made from fairtrade cotton. almost one in three bananas sold in the UK is fairtrade.
The graph below shows estimated value of fairtrade products over ten years.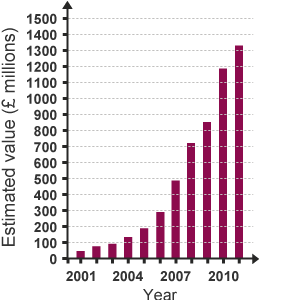 Fairtrade sales in 2012 totalled £1.57 billion.
There are now 1,149 fair trade producer organisations across more than 70 developing countries. 75 per cent of all fair trade producers are smallholder farmers.
Peru has the largest number of fair trade producer organisations, followed by Colombia. However, the largest growth in the number of fair trade producer organisations was in Africa.