A plane mirror is a flat mirror. When you look into a plane mirror, you see a reflected image of yourself. This image:
appears to be behind the mirror

is the right way up

is 'laterally inverted' (letters and words look as if they have been written backwards)
You can use a ray diagram to show how an image in a mirror forms: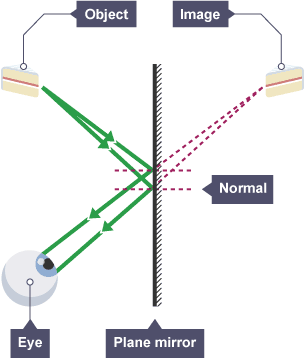 Notice that the 'real' rays, the ones leaving the object and the mirror, are shown as solid lines. The 'virtual' rays, the ones that appear to come from the image behind the mirror, are shown as dashed lines. Remember that each incident ray will obey the law of reflection.