High pressure and low pressure
Pressure is measured in millibars. Standard pressure at sea level is 1013 millibars, but large areas of either high or low pressure can occur. Areas of high and low pressure are caused by rising and sinking air. As air warms, it rises, leading to low pressure at the surface. As air cools, it sinks leading to high pressure at the surface.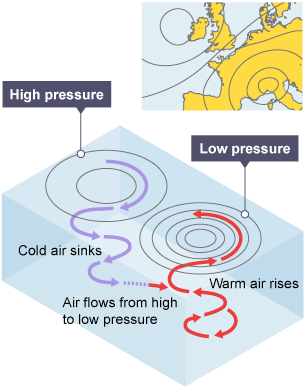 On a weather chart, lines joining places with equal sea-level pressures are called isobars. Charts showing isobars are useful because they identify features such as anticyclones (areas of high pressure) and depressions (areas of low pressure).