A student is investigating waves using the equipment below: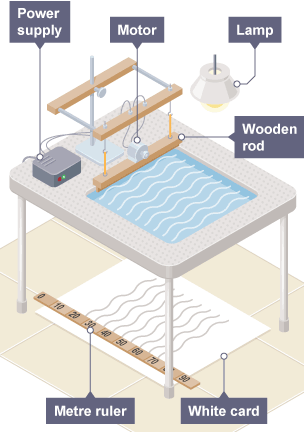 She measures the length of ten waves on the viewing screen and calculates the average wavelength of one wave.
a) Why does this method only produce an 'estimated' wavelength? [2 marks]
b) Why is it more accurate to produce the ripples using a motor than by hand? [2 marks]
OCR 21st Century Science, GCE Physics, PAG, February 2017.
a) It is an estimate as you are measuring the image of the wave, rather than the wave itself.
When answering this question, read the context carefully and look at the equipment provided. You will see that you are using an image of the wave, rather than the wave itself to do the measurements. This makes them estimations.
b) Waves produced by the motor will all be the same and the time between each wave will stay constant. Human error is likely when producing waves by hand.
The key word in this question is accuracy, so, when answering the question, consider when the inaccuracies may lie when producing a wave by hand and how these are resolved by the motor.