Three waves are shown below. All three waves were produced in the same time.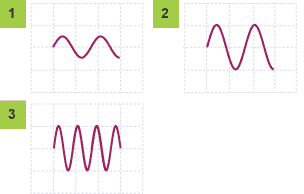 a) Which wave has the smallest amplitude? [1 mark]
b) Which wave has the highest frequency? [1 mark]
c) In diagram 2, 10 waves were produced in 5 seconds, calculate the frequency of the wave. [2 marks]
d) Recall an equation to calculate the speed of the waves in diagram 2 if the wave has a wavelength of 20 cm. State the unit. [3 marks]
This question has been written by a Bitesize consultant as a suggestion to the type of questions that may appear in an exam paper.