Scotland
The main settings in Scotland are:
Pedreschi's shop

Back shop

Ginger store
Pedreschi's shop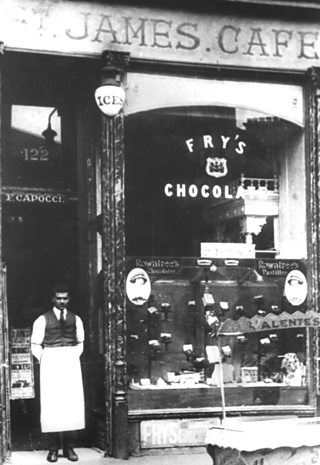 The majority of scenes set in Scotland take place in the Pedreschi's shop. This represents the Pedreschi's hardworking nature and the importance of the business to the characters. We frequently see characters maintaining the shop which shows they take pride in their business. Despite being in a poor area of Glasgow, the shop is successful. We know this because Franco exclaims There's some queue out there.
The theme of family is shown through this setting as it is very much a family run business. We can also see the theme of nationalism through this setting when the shop is attacked by the Scottish mob.
Back shop
Many scenes are set in the back shop – this is the Pedreschis' home and where Rosinelli is largely confined. It is a domestic, family space. To begin with only the Pedreschis are seen in the back shop. Once Hughie is given a job at the shop, he too begins to show up in the back shop. Does this suggest he is becoming part of the family?
When Bridget approaches Rosinella to ask about contacting Franco, she is rejected. Rosinella does not welcome her into the family or this family space.
Ginger store
The ginger store is a private place for Franco and Bridget. It is here that they can relax, dance, flirt and where their love develops into a physical relationship.
The store plays a similar role for Lucia and Hughie. This is where their relationship develops from argumentative, to friendship, to love. The fact that they spy on Franco and Bridget here suggests a definite parallel between the two couples.