Solve the equation
, where
.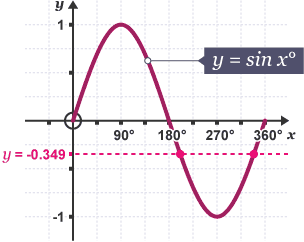 From the graph of the function, we can see that we should be expecting 2 solutions: 1 solution between
and
and the other between
and
.
Since this is sin, but negative this means that we will be in the two quadrants where the sine function is negative - the third and fourth quadrants.
We need to firstly find the acute angle to use with the rules in these quadrants.
When calculating the acute angle, we ignore the negative.
(to 1 d.p.)
Third quadrant
Fourth quadrant
Therefore