Tundra areas include Northern parts of Canada, Russia and Alaska.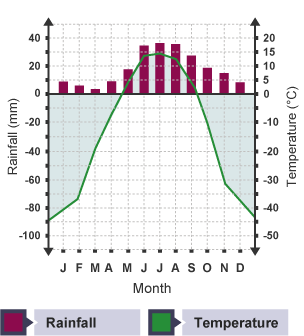 The temperatures stay below 0°C most of the year. The ground remains frozen, apart from a few centimetres of thaw in the summer. The precipitation is gentle, mainly falling as snow. The winds can be very strong.
Summers may have many hours of continuous daylight. Winters are long, dark periods.
The climatic conditions mean that the landscape is quite bare, with little vegetation.